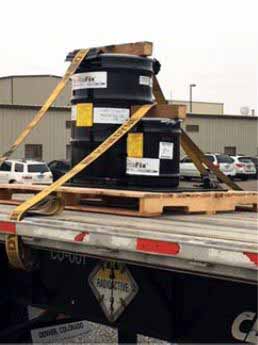 The DOE Office of Environmental Management (DOE-EM) is conducting a 2,000-gallon Test Bed Initiative (TBI) to demonstrate the feasibility of options for retrieval and treatment of the low activity portion of the tank waste at the Hanford Site in Washington State.

Previously, DOE-EM conducted a proof-of-concept demonstration using 3-gallons of Hanford tank waste and a slightly modified technology. This TBI is a larger scale test of 2,000 gallons of Hanford tank waste using the technology chosen in the currently-planned demonstration facility.

The initial 3 gallon test, completed in December 2017, demonstrated that Hanford tank waste could be successfully pretreated, transported to Perma-Fix Environmental Services Northwest (PFNW) for stabilization, and disposed of as treated LLW in a solid waste form at WCS FWF. Approximately three gallons of tank waste were pretreated using filtration and ion-exchange at Hanford's 222-S Laboratory, operated by Washington River Protection Solutions (WRPS), to remove suspended solids and cesium. Following stabilization at PFNW, the resulting material was determined to be LLW in accordance with the Waste Incidental to Reprocessing (WIR) requirements in DOE Manual 435.1-1, and complied with federal and state regulatory requirements.

The Savannah River National Laboratory performed an evaluation to assess the viability of disposing of Hanford treated tank LLW at WCS FWF and concluded that, DOE could potentially accelerate Hanford's tank closure efforts if commercial treatment and disposal facilities were included as an alternative for managing Hanford tank waste.
Related Articles:
Cementing Radioactive Wastes Could Save Billions (August 2, 2018):
CLICK HERE TO READ
Published by the Tacoma Weekly News
Feds Push for Low-Cost Commercial Treatment of Hanford Waste (July 25, 2018):
CLICK HERE TO READ
Published by the Wenatchee World
TBI Facts Sheet (July 12, 2018):
CLICK HERE TO READ
Published by the Department of Energy Office of Environmental Management (DOE-EM)
$2.3B Hanford Spending Bill Pushes for Cheaper Nuclear Waste Treatment (May 17, 2018):
CLICK HERE TO READ
Published by Yakimahearld.com